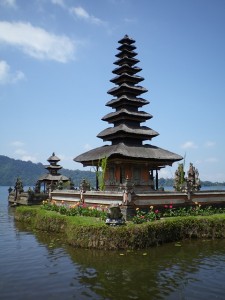 Consisting of more than 17,000 islands, the vast Indonesian archipelago spans 5,120 km across the equator, positioned between the Asian and Australian continents. Four-fifths of the area is sea with the major islands of Sumatera, Java, Kalimantan, Sulawesi and Papua. The 300 ethnic groups that exist harmoniously give birth to a potpourri of cultures and fascinating people. The major ethnic groups are: Minangkabaunese, Malay, Javanese, Sundanese, Maduranese and Ambonnese. Arab, Chinese and Indian immigrants have also settled in regions throughout the country, particularly in the coastal cities
Geographically, Indonesia's landscape is greatly varied. Java and Bali have the most fertile islands and rice fields are concentrated in these two regions, whereas Sumatra, Kalimantan, Sulawesi, Maluku and Papua are still largely covered with tropical rainforest. Open savannah and grassland characterize Nusa Tenggara.
Culturally, Indonesia fascinates with her rich diversity of ancient temples, music, ranging from the traditional to modern pop, dances, rituals and ways of life, changing from island to island, from region to region. Yet everywhere the visitor feels welcomed with that warm, gracious innate friendliness of the Indonesian people that is not easily forgotten.
Facilities-wise Indonesia's hotels are second to none. In fact, many of our luxurious and unique hotels have constantly been listed as some of the best in the world, located on white sandy beaches, overlooking green river valleys, or situated in the heart of busy capital Jakarta. While Indonesia's cities like Jakarta, Bandung, Surabaya, or Makassar are a hive of activities for business and leisure and a paradise for shoppers, offering upscale boutiques selling top brand names, to local goods at road-side stalls. Here gourmets can treat themselves to the many regions' delectable spicy cuisine or dine sumptuously at international restaurants. And for sheer relaxation, Indonesia Spas are second to none to reinvigorate both body and mind.
Places to visit
Tulamben Bay
The north-east coast of Bali is well known for the excellent diving at Tulamben, it's famous Liberty wreck and the weird & wonderful critters to be found at Seraya Secrets.
Getting to the Tulamben area means around a 3 hour drive from the main tourist areas in the south of the island involves a trip up the scenic east coast of the island.
Padang Bai
Padang Bai is a bustling & lively small town with the reputation as one of the best place in Bali to eat fresh & cheap seafood.
The town is built around the picturesque bay which serves as both the Lombok ferry terminal and fishing port harbour. The roads in the town are quite narrow and so the traffic heading for the ferry and all the fishing and diving related activity give the town it's busy feel.
Kuta
Kuta, in Indonesia, is known all over the globe for its beautiful beach, resorts and dining. Located in the southern side ofBali, Kuta is a paradise for all sun, sea and sand lovers. With a population of not more than 100,000 inhabitants, the island is a true surfer's paradise.
Prambanan Temple
Reputated as the biggest and most beautiful Hindhus Temple in Indonesia, and locally known as Roro Jonggrang. Excursion to Prambanan temple complex-the most beautiful Hindu temple then proceed to Solo visit to the Mangkunegaran's Palace, Triwindhu flea-market. Continued drive on to Sukuh temple located on slope of Mount Lawu and surrounded by beautiful sceneries. Also visit to Cetoh temple.
Lake Toba
This is the largest volcanic lake in the world. Lake Toba is usually on most itineraries or agendas of tourists traveling to Sumatra, as the climate is pleasant and the view is spectacular. What makes this lake stand above the rest is that it has a small lake within the lake itself. People who live in the proximity of Lake Toba are usually Bataks – easily distinguishable with their colorful decorations and their houses with unique roofs that curve upward on both ends.
Shopping
There are plenty of things to shop in Indonesia. Among the favorite shopping items are batik cloth, woodcarvings and sculpture, silverwork, woven baskets and hats, bamboo articles, krises (small daggers), paintings and woven cloth.
Bali is the best place to shop in Indonesia, with every conceivable item readily available. This is an excellent place to buy an incredible variety of souvenirs, arts and crafts, clothes, batik, and woodcarvings. Street vendors line kilometers worth of roads. Although the availability and range of goods here is excellent, this may not be the cheapest place to buy items. Prices are often ridiculously high and you are required to use all your bargaining skills.
To purchase traditional arts and crafts at much cheaper prices it is best to head out to the smaller, more remote towns in the archipelago. Markets and vendors in these areas will only sell arts and crafts made locally. Along with these more traditional street stalls, there are large western style malls in some of the bigger cities. They house more up market clothes shops and western fast food restaurants. Jakarta has the largest array of these malls. Prices here are normally fixed.
Wildlife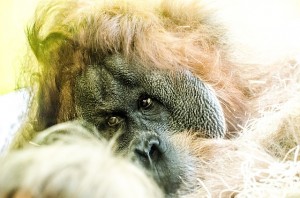 Perhaps the most famous Indonesian animal is the orang-utan (literally, 'forest man'), the long-haired red apes found only in Sumatra and Kalimantan. The Bohorok Orang-utan Viewing Centre in North Sumatra provides easy access to orang-utans in their natural setting, as does the centre at the Tanjung Puting National Park in Kalimantan. Kalimantan is also home to the proboscis monkey, named for its pendulous nose. Various species of the graceful gibbon also exist throughout the region, as do other primate species.
Elephants are not numerous, but they still exist in the wild in Sumatra and can be seen at the Way Kambas National Park in Sumatra's Lampung province. Kalimantan also has a few wild elephants in the northeast, but they are very rare and the species is most probably introduced.
Food
Rice is the staple food in most parts of Indonesia though some variation is found in some of the islands in eastern Indonesia where staple food ranges from corn, sago, cassava to sweet potatoes. But things are changing fast and here also rice is catching them up in popularity. Nasi goreng (fried rice), mie goreng (fried noodles) and gado-gado (vegetables topped with peanut sauce and sliced boiled egg) are some of the typical Indonesian dishes.
As Indonesia is an archipelago, fish is one of the favorite food items and various types of fish feature prominently in the diet. Seafood is found in abundance and has great variety such as lobster, oyster, prawns, shrimp, squid, crab, etc. Coconut is ubiquitously available and apart from being used as cooking oil its milk and pulp is used as an ingredient in many dishes. Beef and chicken are widely available; pork is only found in Chinese restaurants or in non-Muslim regions. Coconut, chilli, soy sauce and peanut sauce are common flavourings.
Some of the major fruits found in Indonesia are jackfruit, durian, starfruit, papaya, pineapple and mango.
Weather
Being a tropical country, Indonesia is blessed with two seasons, namely dry and rainy. Dry usually occurs from June to September and the rest is rainy season. Sunshine is abundant except in rainy season when the sky tends to be cloudy. It is advisable to visit Indonesia during dry season.
Indonesia's climate can be hot and humid, so bringing along sunblocks and moisturizers during dry season is recommended. No need to bring umbrellas during rainy season because they are abundant and can easily be bought even in small shops. You might need extra clothing though, and you can purchase them almost anywhere.
Currency
The local currency of Indonesia is Rupiah (Rp) and1Rp = 100 sen. Bills come in denominations of Rp 100, 500, 1000, 5000, 10,000, 20,000, 50,000 and 1,00,000. Coins come in denominations of Rp 5, 10, 25, 50 and 100.