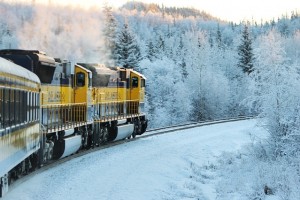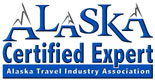 Although Alaska's statehood is relatively brief, the state's history is long and colorful.
Dinosaurs once roamed the Great Land, followed by bison and woolly mammoths. The first people moved across the Bering Land Bridge into northwestern Alaska more than 20,000 years ago (and moved southward), archaeologists think, and Europeans arrived about 260 years ago.
A series of fur, timber, gold, fishing and oil booms and busts have marked Alaska's history and culture. Each boom brought in a different set of people.
Alaska Natives, who make up 15 percent of the state's population, maintain many traditions, such as whaling, subsistence hunting and fishing, and old ways of making crafts and art. Native heritage history and culture can be found in such diverse places as Ketchikan, Anchorage and Kotzebue, as well as in hundreds of villages where people live in traditional ways.
But while Native culture, as a whole, may define much of Alaska's appearance, the state contains a broad mixture of cultures. In Anchorage, for example, the school district has found that its student body comes from homes that speak 83 languages.
Anchorage, the state's biggest city, has many Alaska influences but is also sometimes called Los Anchorage for its Lower 48-style architecture and mannerisms. Most residents of Alaska were born outside the state, and when they came to Alaska they brought their own traditions and desires.
There are European influences as well. Petersburg, in the Inside Passage, has a strong Scandinavian heritage. Cordova and Valdez bear names bestowed by a Spanish explorer; Cook Inlet is named for a British explorer; Russians left a legacy of the Orthodox Church in much of the state.
Shopping
An Alaska shopping experience is not like your typical mall excursion. Shopping in Alaska is more like a discovery tour into the state's history and culture. Wherever you go, you will find a diverse selection of unique products and crafts. These may include:
Beautiful gold nugget jewelry and other small items carved from jade.
Unique handmade Alaskan clothing and toys.
Intricately woven baskets composed of beach grass, bark or baleen.
Sumptuous Alaskan delicacies such as canned and smoked salmon and wild berry products.
Native seal oil candles, beaded mittens and miniature hand carved totem poles.
When you are shopping in Alaska, be sure to look for the "Made in Alaska" logo, which will confirm the authenticity of the product you are considering buying. On your Alaska shopping excursion, you might find products that display a sliver logo. This indicates that the item is an authentic Alaskan handicraft.
If we were to review every Alaska shopping opportunity, we would have to write a book! So, for your convenience, we've highlighted some of the most interesting Alaska shops.
Places to visit
Anchorage
Fairbanks
Girdwood
Homer
Juneau
Ketchikan
Seward
Sitka
Skagway
If you are planning a holiday inAlaska, USA, you"ve come to the right place. We have the scoop on the big events in Alaska, as well as detailed travel information that will help you plan your trip to Alaska, USA. Are you a winter person, a spring person or a summer person? Every season features a number of big events in Alaska. Let"s begin in the summer.
Summer Holiday in Alaska, USA
Summer brings a variety of festivals and events to Alaska. The Summer Solstice is one of the most popular big events in Alaska. It is celebrated in different ways in every part of the state. However, the Solstice is just one of the festivals you will enjoy on your holiday in Alaska, USA. In June, the Anchorage Music Festival presents an exciting classical music repertory. June is also the month when other one of the popular big events in Alaska takes place: The Midnight Sun Marathon. People come to Anchorage from all over the world to run this beautiful course.
Meanwhile, in Valdez; The Last Frontier Theatre Festival is a unique event, that features readings from a variety of new plays. If you have thespian talents and experience, you can apply to be reader, and get the $250 conference fee waived! Although there are a vast multitude of hotels and motels in Valdez, you can save even more money by staying for free at the Prince William Sound Community College.
If your holiday in Alaska brings you to Fairbanks in July, you might want to check out the Midnight Sun Intertribal Powwow, where a number of Native American groups perform tribal music and dance. World Eskimo-Indian Olympics in Fairbanks is an athletic competition between the two native cultures. During that same time period, be sure to check out the Golden Days of Fairbanks, which is a weeklong celebration of Alaska"s gold rush heritage.
Winter Holiday in Alaska
Winterfest at Denali National Park is a popular Alaska event. It features Survival tips, snowshoe and ski trips into the park, food and music. The winter ice festival in Seward, you can watch snow machine demonstrations and races, sports and recreation trade show, wildlife cruises, fishing, and other great activities.
The Iditarod Race is perhaps the most famous Alaska event. The Iditarod travels over 1,150 miles of some of the most extreme and beautiful terrain in Alaska. The sled drivers cross over steep mountain ranges, frozen rivers, dense forests and windswept coastlines. The Iditarod Race travels from Anchorage to Nome. Each Iditarod team of 12 to 16 dogs and their musher covers over 1150 miles in 10 to 17 days.
The Iditarod Race is often referred to as the "Last Great Race on Earth". It has received highest acclaim throughout the world. Each year, German, Spanish, British, Japanese and American film crews come to Anchorage to cover this Alaska event.
The Iditarod Trail was originally a mail and supply route from the coastal towns of Seward and Knik to the interior mining camps at Flat, Ophir, Ruby and beyond to the west coast communities of Unalakleet, Elim, Golovin, White Mountain and Nome. As the mail and supplies went in, gold came out. This was all done by dog sled. In 1925, the Iditarod Trail saved many lives in epidemic-stricken Nome, when dog mushers brought in powerful diphtheria fighting serums. The Iditarod is a commemoration of those days.
No matter when you plan to take your holiday in Alaska, there is bound to be an exciting Alaska event happening somewhere in the state.