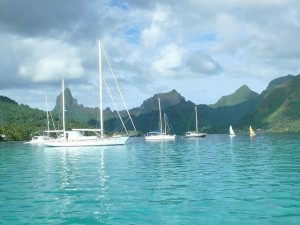 French Polynesia's main island of Tahiti (meaning 'the gathering place') stands sentinel over her surrounding sisters like a proud queen, her soaring interior mountains sheltering deep valleys, plummeting waterfalls and crystal streams flowing down to the rugged coastline of black and white sand beaches and blue lagoons. Tahiti is actually two islands, Tahiti-Nui and Tahiti-Iti, joined by a narrow isthmus.
Most holiday makers start their island idyll at the international Faa'a Airport at Papeete, Tahiti's capital and the commercial hub of French Polynesia. The small, busy city has a French flavor and laid-back atmosphere, worth exploring for its vibrant Central Market, pearl shops, attractive waterfront with its unique mobile diners, and a selection of excellent restaurants. Another must for visitors is to take a round-the-island tour, along the 73-mile (117km) road encircling the island, passing historic monuments, museums, beaches, ruined temples, waterfalls, gardens and dramatic scenery.
The island's best white sand beaches are between Punaauia and Papara, but most visitors get more of a thrill out of visiting the famed black sand beaches on the east coast, particularly renowned Pointe Venus. Besides enjoying the seaside, Tahiti also offers some interesting sightseeing, including magnificent Botanical gardens, museums, archaeological sites, the tomb of the royal family Pomare, a lake containing unique eared eels, lava tubes, and a host of other unusual experiences.
Tahiti Vacations – French Polynesia Vacations
Experience the Islands of Love! Tahiti and Her Islands lie in the Pacific Ocean, just south of the equator, in the same time zone as Hawaii, only 8-1/2 hours by air from Los Angeles, midway between North America and Australia. Tahiti has long been referred to as a tropical paradise — these extraordinary islands are for people seeking a unique, luxurious or adventurous romantic experience. You'll have time to relax and do nothing, bask in the sun, or try one of the many activities available.
Overwater Bungalows
Like no hotel room you've stayed in before, these traditional thatched roof bungalow are perched above the turquoise waters. In many of the rooms, tropical fish swim below as you look through the glass floor or coffee table.
About Tahiti and Her Islands
Tahiti and Her Islands comprise an area officially known as French Polynesia. The Islands are scattered over four million square kilometers (one and a half million sq. miles) of ocean in the eastern South Pacific.
In the last few years, Papeete has grown into a very modern city boasting a variety of new public facilities: shopping centers, boutiques, restaurants, night clubs and bars, travel agencies and airline offices, art galleries and museums.
The term French Polynesia refers to five archipelagoes spread over an expanse of the South Pacific approximately the size of Western Europe (2,000,000 square miles or approximately 5,000,000 square kilometers). The region includes the Marquesas, the Tuamotus, the Society Islands, the Australs and the Gambiers. Each of these archipelagoes has its own culture, ethnicity and climate.
Whether you're looking to hike into mountain beauty, dive among multi-colored schools of fish, tour the islands or set sail at sunset, you'll find it here.
The Tahitians are a handsome people noted for their hospitality, friendliness and easygoing approach to life.
Tahitian culture is a lively fusion of ancient Polynesian lore and European contemporaneousness.
The mixture of Polynesian and French cultures has resulted in a fertile culinary environment. There is a variety of splendid foods available in Tahiti ranging from traditional Tahitian fare to fine French cuisine, and tempting combinations thereof. The Tahitian diet consists mostly of fish, shellfish, breadfruit, taro, cassava, pork, yams, chicken, rice and coconut.
Visitors will also find any number of Italian, Vietnamese and Chinese restaurants of various price categories and quality. For Americans accustomed to fast-food, Papeete and some of the outer islands serve hamburgers, steaks, fries and similar staples.
One of the most lasting impressions of French Polynesia is the captivating floral scents which permeate the tropical air. The region is home to a myriad of tropical flowers, many indigenous to these islands.
The basis for French Polynesia's traditional "hei" wreath is the perfumed "Tiare Tahiti." This heavily scented gardenia is widely used for greeting arriving visitors and returning family. In fact, the "Tiare Tahiti" is so revered in French Polynesia that it has its own national holiday.
The flower is also used as an ingredient in tanning lotions, perfumes, soaps and other cosmetic products.
Plant life, which grows vigorously throughout the year, comes into flower more often during the wet season, while further away from the equator the archipelagoes down south, the Austral and Gambier, enjoy cooler temperatures.
Shark Feeding
With dozens of reef sharks swimming close by, this excursion is one of the most thrilling and popular on all the islands. After a short trip by outrigger canoe, you'll float or stand in four to seven feet of clear water behind a secure rope as the docile sharks are hand fed by an experienced guide. Even non-swimmers can enjoy this exciting scene from the boat. Just one of the many exciting ways to enjoy your stay on these terrific tropical getaways. Ask for details on other excursions available on the islands.
Qantas Vacations are the largest purchasers of hotel rooms and tourist services in the South Pacific. This translates into lower rates and savings for you when you're booking a vacation in Tahiti. We offer you many new and ongoing travel specials including travel packages, romantic and luxury getaways, resort and hotel specials, Tahiti holiday airfare specials, and much more. Travel to French Polynesia and enjoy hiking, diving, island tours, great restaurants, and popular excursions to see shark feedings.
Climate & When to Go
The dry winter period from May to October is the best time to visit; the weather is cooler and there is much less rainfall. Temperatures rise during the November to April summer rainy season when it's humid, cloudy and very wet. Three-quarters of the annual rainfall occurs during this period, generally in the form of brief, violent storms, although torrential rains lasting several days are not uncommon.
French Polynesia is south of the equator, but school holidays fall in line with those of the northern hemisphere. This means the peak season is July and August, and during this period it's no mean feat getting flights and accommodation. Christmas to early January, late February and early March, the Easter period, early May and early October are also quite busy times. The peak July-August season coincides with the Heiva festival, held throughout July, when the region comes to life.
Diving is popular year-round, and each season brings its share of discoveries. Surfing is also a year-round activity, but if you are sailing, it's best if you avoid the November to March tropical depressions. Walking is best in the dry season, as some of the trails are simply impassable when it's wet.
Money
The unit of currency in French Polynesia is the Cour de Franc Pacifique (CFP), referred to simply as 'the franc'. There are coins of 1, 2, 5, 10, 20, 50 and 100 CFP, and notes of 500, 1000, 5000 and 10, 000 CFP. The CFP was pegged to the French franc, and so is now pegged to the euro. For exchange rates, see the Quick Reference page.
There are fairly hefty bank charges for changing money and travelers cheques in French Polynesia. You generally pay at least 500 CFP commission on travelers checks and to exchange cash, although exchange rates do vary from bank to bank, so if you have time, shop around to find the best rate. Given the cost of living in French Polynesia, and the low crime rate, you are better off exchanging larger sums of money (ie, fewer transactions) than smaller amounts. Rates offered on Tahiti tend to be better than those offered on the other islands.
Credit cards
All top-end and midrange hotels, restaurants, jewelry shops, dive centers and the bigger supermarkets accept credit cards, preferably (and sometimes exclusively) Visa or MasterCard, but they require a 2000 CFP minimum purchase. You can also pay for Air Tahiti flights with a card. Most budget guesthouses and many tour operators don't accept credit cards, so you can get caught out on the weekends if there's no ATM on the island.