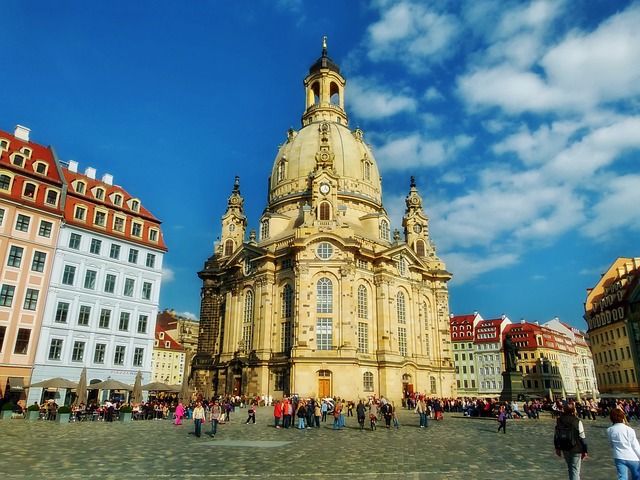 Germany has a wealth of attractions, stemming from its rich cultural tradition and gorgeous landscapes. The country possesses a bustling nightlife, numerous holidays and festivals, and picturesque scenery. Composed of sixteen states, each with their own personality, Germany is a major industrialized nation, but don't let that fool you—there are miles and miles of natural wonders to behold: from the Black Forest to the Bavarian Alps to the beaches on the Baltic and North Seas.
German travel typically begins in one of the country's major cities. The capital, Berlin, is always a popular destination, particularly with the renovation it has undertaken to the city center since the fall of the Berlin Wall. The Potsdamer Platz is soon to be completed and will be one of the must-see architectural attractions in Germany. However, there are more metropolises beyond Berlin to experience and many are drawn to jaunty Oktoberfest in Munich, the elegant Baroque architecture of Dresden, or Hamburg, known as the Green City on the Water due to its plethora of parks and lawns. Each of the cities offers a different experience to the German tourist.
Shopping
You'll find plenty of areas to shop in any of the major cities with the majority of the options located in its center. Just about anything the heart desires can be found, particularly within Berlin, and it'll be a good idea to budget your finances accordingly lest you find yourself spending too much!
Christmas Market
Not all shops in Germany are large or sell goods made in factories. Christmas Markets first begin to make an appearance in late November and run through to Christmas Eve almost without interruption. Found in just about every village and town in Germany, the Markets feature stalls full of homemade items: from woodworked figurines, to baked sweets, to toys, to leatherwork. These can make perfect souvenirs in addition to the beer steins and handmade crystal that you can find in other shops in Germany.
Places to visit
Berlin
Berlin, a draw in of itself, contains a myriad of individual sights to see. Remnants of the infamous Berlin Wall can be found in parts of the city, and the last remaining gate, the Brandenburg Gate, can be found along the western end of Unter den Linden Boulevard. Those with a fondness for Prussian history will want to visit the Charlottenburg Palace; it's the oldest surviving Prussian palace. The Soviet War Memorial and its statues bearing tribute to the Russian soldiers who died fighting Hitler is another must-see. Beyond the immense amount of history available, Germany's capital city also offers a remarkably diverse zoo which features over 13,000 different species.
Dachau
While much of your Germany vacation will be filled with light and joy, the concentration camp Dachau provides an essential balance in perspective. Built in 1933, it's unique among the concentration camps as it served as a training ground for those that would staff the other camps, such as Auschwitz in Poland. A guided tour is available and recommended for visitors to fully grasp the horrors that took place there. The inscription in a statue, "Never Again," reminds the German people that while some of their history might be dark, they have resolved to prevent such things from reappearing.
Heidelberg
A German vacation is not complete without a visit to Heidelberg. Its beautiful castle perfects the town's skyline. From a scenic vantage point along the walls, you can get a tremendous view of Heidelberg. Yet those who seek the most picturesque vistas will go the extra mile up to Königstuhl. It's a long way, but on a clear day you can see for miles and miles.
The Bavarian Alps
The Bavarian Alps offer some of Germany's most breathtaking views. From the slops of these ancient mountains, one can survey the German landscape in all of its glory. The state of Bavaria involves Lake Constance, Franconia, the capital city of Munich, and of course, the Alps.
All sorts of wonderful outdoor activities are available to those visiting Bavaria. During the summer, quality hiking in the Alps is readily available; during the winter, there are several towns that feature skiing in the Alps. While it's true that many prefer to go to Austria or Switzerland where the mountains are higher and the snow is guaranteed, there is still good skiing in the Alps. One perk of skiing in the Alps is that they're easily reached from Munich, often times only an hour or two away by car.
Neuschwanstein Castle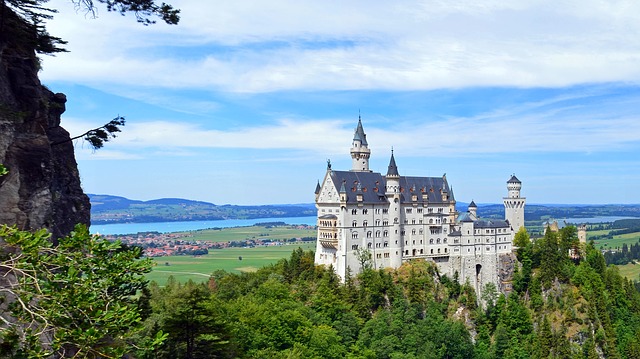 The most famous of Germany's castles, and one of the three commissioned by King Ludwig II, overlooks the gorgeous Hohenschwangau valley. If the architecture looks familiar, it's because Walt Disney used the castle as inspiration when designing the Sleeping Beauty Castle for Disneyland. Hundreds of artisans from around the globe took sixteen years to build but a third of the planned castle, and it was never finished. However, its sweeping turrets and alabaster walls still make Neuschwanstein a beautiful sight and a prime tourist attraction in Germany
The famous Neuschwanstein castle, in Bavaria has been used for movies such as "The Timekeeper", "Escape from Colditz" "Chitty Chitty Bang Bang" and "Ludwig". It is also a candidate to be part of the New Seven Wonders of the World. The windmill which was the Potts home in the movie is called "Cobstone mill" and is situated in Ibstone, Buckinghamshire.
The Black Forest
Don't let the ominous name fool you, the Black Forest is a wonderful place to visit on your vacation and is quite sunny during the summer. The thick covering of dark fir and pine trees earned this stretch of hills and valleys its namesake. Those with a love for quiet hikes or cross-country skiing will make the Black Forest a priority. More over, travelers looking for reasonably priced accommodations will delight in the affordable country inns.
Beaches
Perhaps the single most important thing to remember when planning your trip to the beaches in Germany is that some of them are nude. Topless sunbathing is fairly common, but totally nude beach Germany tend to be marked by signs. As an example, Sylt is known for its nude beaches but if you aren't interested in that, don't let it scare you off. The island also has more to offer. Miles and miles of spectacular bike trails through evergreen forests will give you something to do if you want to get away from the more developed, tourist-centric part of the isle.
Another popular destination for beach Germany is the Frisian Islands. These islands form a chain off the coasts of Germany and Holland are range from three to twenty miles away from the mainland. Many of these islands feature German beaches and resorts. Certainly a stay on an island in the North Sea will be far different than anywhere else in Germany. Helgoland, an island northwest of Germany, has a permanent population of but 2,000 but can provide ample hospitality for tourists looking to experience what the island has to offer.
Festivals
Oktoberfest
Of all the holidays and festivals, Oktoberfest in Germany must be the single most famous. Each year, Bavaria plays host to one of the most vibrant celebrations of life you can find anywhere. The stereotype of the typically stolid German is shattered amidst laughter, singing, dancing, and the clatter of those renowned giant beer steins against tables.
Rock Am Ring Musical Festival
More than 150,000 rock music fans gather each summer at the race track of the Nuerburg Ring to get up and get down at "Rock am Ring", Germany's biggest open air music festival. The star-studded lineup of international rock bands keeps the fans dancing for all three days.
Rhine in Flame Festival
This festival invites you to see the Rhine's natural beauty in a whole new light. Thousands of Bengal lights, stunning fireworks, and illuminated steam boats that glide down the Rhine, bathing the river banks, vineyards, and castles in a magical glow. The spectacle takes place on weekends throughout May and September.
Berlin International Film Festival
Every February, Berlin rolls out the red carpet to host the Berlin International Film Festival. What to expect? More than 400 films from all over the world, parties, and special events open to everyone who loves film. Besides Cannes and Venice, the Berlinale is the most important film festival in Europe.
When to go
If you're planning to travel to Germany, you won't find a lack of places to see or things to do. One is almost never far away from tourist attractions in Germany. However, you will want to take into what you would like to experience as well as the typical tourist season.
Most will want to take their Germany vacation between May and late September, when the skies are more likely to be clear and the weather is warm. A savvy traveler can seize these days and frequent the outdoor cafes and beer tents in the cities and villages or enjoy one of the many hikes or cycling paths available. The weather is not always cooperative though and rain is not a rare event.
Currency
Like the rest of the European Union, Germany utilizes the Euro as its primary form of currency. You can typically have your money exchanged in airports, banks, and major hotels. However, there are ATMs scattered throughout the country that provide the same service (although there may be an additional service charge). Most major German stores will accept credit cards.
Weather
As with most European countries, Germany is a year-round destination but not especially dependable weather-wise. In general terms though, it's temperate throughout the country with warm summers and cold winters – prolonged periods of frost or snow are rare. Rain falls throughout the year. The average January daytime temperature is 3°C (38°F) and in July is 22°C (72°F). Extremes commonly reach -10°C (5°F) in winter and 35°C (95°F) in the summer months.
Travel Documents
U.S. Passport / valid at least 3 months beyond intended stay.Tickets and Documents for return or onward travel.No visa required for stay up to three months (a maximum of three months cumulative stay during any six months period in the combined.