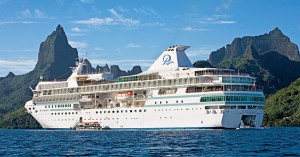 A cruise isn't just a vacation. It's way better. You get awesome onboard activities, delicious dining choices, nightlife, comedy and plenty of places to just kick back – all as you go from one fun destination to another.
Cruises aren't free, but the basic fare includes room, food, and enough onboard activities to provide travelers of all ages with a memorable vacation. If cruise guests can resist the many optional onboard and ashore opportunities to spend money, a cruise is almost all-inclusive. Therefore, budgeting for a cruise vacation is easier than for a land-based vacation. If you are on a budget and stick to it, cruises are a terrific value. You just have to plan ahead.
Choosing a cruise ship cabin can be fun and challenging at the same time, and not just a little bit frustrating on occasion. Before booking your cabin, ask yourselves these questions:
Do you tend to get seasick?
Do you prefer to nest peaceably on your balcony rather than hangin' with the crowd around the pool area?
Conversely, is your idea of a stateroom simply a place to flop into bed at 1 a.m. — no fancy notions necessary?
And do you, like me, tend to go just a little bit crazy if your bed faces aft when you know you're moving forward?
Despite the fact that some cruise lines present as many as 20 or more "categories" per ship, it's helpful to remember that there are essentially only four types of cabins on any cruise vessel:
Inside: no window, in an inside corridor
Outside: window or porthole with a view to the outside
Balcony: includes a verandah that allows you to step outside without going up to a public deck
Suite: a larger cabin, often with separate living and sleeping areas, and a wide variety of extra amenities and perks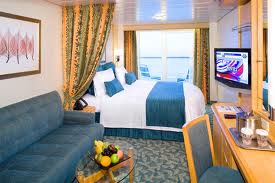 It's the permutations (size, location, amenities and price, for example) of the four basic cabin types that can make choosing difficult, so we are providing a guide to help you make the selection that is best for you. Note: Staterooms designed for physically challenged guests can fall into any of the above categories and will not be separated out.
When to Book
Selecting your cruise and putting down a deposit early guarantees that you will be on the cruise you want and in the cabin or cabin type that you want. The best rule of thumb is that if you find an itinerary you like on a ship you like at a time that you can travel and at an acceptable price, get the cabin you desire and go for it. In some instances, if the prices for cabins in your category go down, you can access the savings, but it requires some research and contact with either the travel agent you used to book your cruise or the cruise line itself. Book the cruise as if you don't expect a rebate, and if you do manage to get one, consider it a huge bonus.
You can get good deals by waiting until the last minute to book. However, this approach is best for those who can be flexible with their travel plans, meaning you don't care which cabin you're in, you're not picky about ship or departure date, and you're only traveling two to a cabin.
What to do
Enjoy the Onboard Entertainmnent
Cruise ships have at least one show every evening in the main lounge. Large cruise ships often have Las Vegas-style revues, with singers, dancers, and amazing sets and costumes. In addition to the main lounge shows, passengers can enjoy piano bars, small combos, and music of all types in the multiple lounges most ships have.
The entertainment does not stop with music. Most ships feature comedians, magicians, and even ventriloquists at some of the shows. All of this entertainment is included in your fare.
For those who want to participate in the entertainment, ships have karaoke, talent shows, and ballroom and disco dancing.
Exercise in the Fitness Center or Walk/Jog Around the Deck
Cruise ships have modern fitness centers with treadmills, weights, ellipticals, bicycles, and other exercise equipment that are equal to (or better than) you would find at home. Use of the fitness center is free, but some classes such as yoga or Pilates are fee-based.
A workout sure is much more enjoyable when you have a great view of the ocean. In addition to the fitness center, most ships have either a promenade deck that wraps around the ship or a deck with a walking/jogging track.
Swim in the Pool
Cruise ships always have one or more swimming pools that are free. These pools are often small when compared to those at a resort, but they can still be fun for all ages. Ship passengers can also enjoy water volleyball or other pool games. Many ships have separate pools for adults, kids, and even teens.
If swimming sounds like too much work, cruise ships also feature hot tubs where you can soak those tired muscles.
Sit in the Sun by the Pool
Sitting in the sun or the shade with a good book is a favorite onboard activity for many cruise passengers. There's something special about the sea breeze and the sea air. Like the swimming pool, use of the lounge chairs is free.
Watch a Movie
Most cruise ships feature movies on the TVs in the cabins. However, watching a movie on a large outdoor screen by the pool is great fun. These outdoor movies are shown "under the stars' and great free fun on a ship. Some ships also have indoor movie theaters where movies are shown throughout the day.
Read a Book in the Library
All cruise ships have onboard libraries. Some are very tiny, but most are adequate and have space to sit and read a good book. You can also check out the books and take them back to your cabin or out on the deck to read.
Explore the Ship
Large cruise ships are engineering marvels, and taking the time to explore the decks of a ship is a fun way to spend time onboard. Ships also sometimes have free galley tours, which offer passengers the opportunity to see some of the secrets of creating thousands of meals each day in relatively small spaces.
When exploring the ship, be sure to peek into the numerous onboard shops. You can look for free, but don't be tempted to buy if you are trying to stay on budget!
Location, Location, Location
You can go on a cruise pretty much anywhere in the world where there is water. Although the most popular cruises are on the ocean, you can also take a cruise on a lake, river, or other waterway, depending on the cruise company. Favorite destinations for ocean-going ships include the Caribbean, Mexico, Alaska, and Europe.
A cruise can last anywhere from two days to four months.
Cruises can run from as little as $49 per person to well over $200,000 per person—the price all depends on the itinerary and cruise line. Other key factors in cruise pricing include the type of cabin (inside cabins are much cheaper than outside cabins), length of cruise, and time of year.