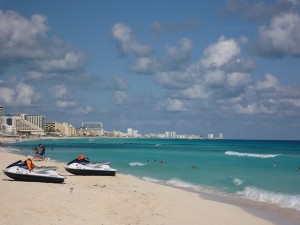 Beginning where the Mayan Riviera ends, the Costa Maya stretches along the coastline down to Belize. No where near as much development has occurred here as the Riviera. Highway 307 veers away from the coast and by the time it gets to Felipe Carrillo Puerto you are more than 50 km away from the coast. Driving along dirt roads one can cruise the coastline, however, the roads are not well maintained and a 4-wheel drive vehicle is recommended.
Diving
The Costa Maya is the last remaining section of coastal properties yet to be exploited and there are acres of coastal land with absolutely no development. The odd fishing village spots the landscape but not much beyond that. Flying along the coastline you encounter numerous cenotes and you can still see the outlines and impressions of villages that were there centuries ago.
Costa Maya is sheltered by the second largest coral reef system in the world, the Meso-American reef, positioning it as a world-class dive site. Costa Maya boasts one of the most well-preserved waters and marine life in the world. The region offers visitors miles of unspoiled beaches and pristine waters that average 100 feet of visibility, and is home to more than 60 types of coral and more than 500 species of fish, making it a haven for any diving enthusiast.
The Costa Maya diving experience is available to both cruise passengers and non-cruising visitors alike. Numerous diving packages are offered through onsite tour operator DreamTime Dive Resort (a PADI-accredited facility), including a two-hour boat trip to Chinchorro Banks, home to the largest coral atoll in the Northern Hemisphere. Over 25 miles long, the famed Chinchorro is regarded among avid divers as the ultimate diving experience.
For more information contact DreamTime Diving.
Food
Culture and traditions of Mexico and Costa Maya are reflected in the food. For sure you will find a few options for regional food, Mexican food, sea food and international food.
If you decide to taste the different flavors of Mexico be aware that by tradition Mexican food is spicy hot, however, there is a "special version" of Mexican food for tourists which is not that spicy.
Mexican and regional dishes are usually served with corn tortillas and guacamole. If you are eating at a restaurant in Costa Maya, it is likely that you will also find one or more small bowls with red or green "salsa" on your table. Even if it looks tempting, try just a little bit. If you like it and you think you can handle it, add it to your food. We known of many tourists that simply did not resist the temptation of decorating their food with the salsa just to find out that it looks nice but it got as hot as liquid fire!
Habanero peppers are tasty, but hot. Keep this in mind when you hear the word "Habanero".
In Costa Maya you will find a number of "puestos" and "taquerias" where you can find from a simple taco, quesadilla or sope. You can also find one or two "cocina economica" which are small restaurants that serve home made food at very affordable prices. There are certainly restaurants that offer elaborated international dishes.
Places to visit
Jungle Beach Break
Costa Mayas most popular beach club: where endless white beach meets a tasteful modern style. Tour includes open bar, beach soccer, beach volleyball, animated beach party, beach games for children, deck chairs and hammocks. Choose from a range of extra activities, including a restaurant and water sports. Regular A/C shuttles throughout the day
Echo Airboat Tour and Beach Getaway
Guests will board airboats in the nearby Rio Huach National Reserve and travel through virgin mangrove forests while guides point out the incredible diversity of animal life including crocodiles, fishing eagles, countless species of fish and many more. After many photographs and time in the preserve, guests will be transported to the beach side palapa for lunch and eventual return to the port.

Services
As in the rest of Mexico electricity standard in Costa Maya is 110 Volts. If you are planning to bring devices that use 220 Volts, you may consider bringing your own adapters as it is likely that you will not find one in Costa Maya.
In Mahahual, there are a few "Telmex" public phones on the street. These phones work with prepaid calling cards that you can easily find in Mahahual.
For the moment not all hotels in Costa Maya offer internet access. If you are staying in Mahahual, you can find a couple of internet cafes where you can get the service.
For the moment there are no hospitals in Costa Maya. Both Mahahual and Xcalak have "Health Centers" where you can find a Doctor and a Nurse. They can help you with the very basic medical attention. The closest hospital for specialized medical attention is in Chetumal.
Just in case you arrived by land and decided to rent a car and drive, Costa Maya has now a gas station however, it is common that they run out of gas every once in while. So it is recommended to spend a few minutes when you pass by the gas station and make sure you fill your tank. As of June 2008 gas prices are as follows: Magna (Regular or the "Green one") is $7.86 Pesos per Liter. Premium ( Super or the "Red one") is $8.90 Pesos per Liter.
Calling Home from Costa Maya
It is always cheaper to use a Telmex public phone on the street to make phone calls. To use public phones you will need a prepaid calling card that can be purchased practically everywhere. There are prepaid calling cards of $30, $50 and $100 Pesos.
The cost per minute for a call to the United States or Canada is $5 pesos (.50¢ USD) . The cost per minute varies for other countries.
To make long distance calls within Mexico (Ej. from Costa Maya to Mexico City) you must dial:
01 + area code + phone number (12 digits)
To call from Costa Maya to the United States or Canada you must dial:
001 + area code + number
To call from Costa Maya to any other country you must dial:
00 + country code + area code + phone number
Area code for Costa Maya is 983.
To make a phone call to Costa Maya from the United States or Canada you must dial:
011 + 52 (Country code for Mexico) + 983 (Area code for Costa Maya) + phone number.
CALLING A CELL PHONE IN COSTA MAYA
To make a call to a local cell phone you must dial:
044+area code+phone number (13 digits)
To make a long distance call to a cell phone you must dial:
045+area code+phone number (13 digits)
Note: For some reason people in Mexico have added the area code to their cell phone numbers. It is very common that when someone gives you their cell phone number they will give it to you with the area code as part of the number. When you are calling a cell phone just make sure you dial 13 digits starting with 044 or 045.
Your Security in Costa Maya
Costa Maya is a secure place where everyone is friendly and likes to see tourists around.
In Mahahual Village there is a police station and it is common to see two officers riding their motorcycles through the village just trying not to get bored.
Weather
Costa Maya is in the Central time zone and observes daylight saving time according to the U.S. schedule. Average temperature in Costa Maya is 75-85 °F. Around December-February, Costa Maya lives its "winter time". During these days temperatures can go down to 60 °F. Rainy season starts in late May and ends in early November. During September-October Costa Maya faces the risk of hurricanes. Costa Maya receives an approximate of 60-70 inches of rain per year.