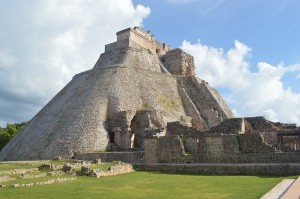 You will find everything you need right here to plan your fun-filled Caribbean vacation of a lifetime. Cancun is situated on the south-east coast of Mexico in the state of Quintana Roo in the Yucatan Peninsula. Warm white powdery sand beaches and turquoise crystal clear waters together with the famous Mexican hospitality make this a place like no other! World-renowned fishing, diving and snorkeling, archeological sites dating back thousands of years, a balmy tropical climate and water sports galore…this is Cancun! A very complete resort where you could keep busy 24 hours a day just participating in the many activities and tours available, and yet Cancun remains a tranquil retreat where you can relax to your hearts content along the peaceful shore of the Caribbean …this is the real purpose of Cancun!
Beaches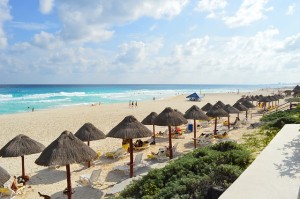 Naturally, the beaches are the biggest draw in Cancun with their soft, white sand and brilliant turquoise-blue water. Cancun's Hotel Zone is really just one long beach separated from the mainland by a system of lagoons.
The dazzling white sand of Cancun's beaches is light in weight and cool underfoot even in the blazing sun. That's because it is composed not of silica but rather of microscopic plankton fossils called disco-aster (a tiny star-shaped creature). The coolness of the sand has not been lost on Cancun's ingenious promoters, who have dubbed it "air-conditioned."
All of these delightful beaches are open to you becauseall Mexican beaches are public property. Several of Cancun's beaches are set aside for easy public access, but you should know that you have the right to walk and swim on any beach at all. In practice it may be difficult to approach certain stretches of beach without going through a hotel's property, but few hotels will notice you walking through to the beach in any case.
Things to do
There are a thousand and one things to do in Cancun. There are many world-class luxury hotels dotted all along the edge of the beautiful Caribbean Sea, and on the other side you have the Nichupte Lagoon with many romantic waterside restaurants and trendy bars. Add a full range of watersports, including some of the world's most exquisite snorkeling and scuba diving, plus championship golf courses and you have a location that will delight even the most discerning traveler.
Water sports
For watersports enthusiasts, Cancun offers some of the best scuba diving, snorkeling and fishing in the world, owing to the Great Mesoamerican Reef just off the coast of Cancun. This is the second largest reef in the world – second only to the Great Barrier Reef in Australia.
Diving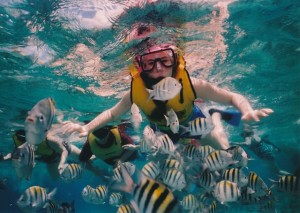 While scuba diving in Cancun, you can discover a paradise full of wonderful attractions. One of the most valuable treasures found underwater is the Maya Reef, the second largest in the world, just behind the Great Barrier Reef in Australia. It stretches all the way from Cabo Catoche, in Mexico, to the Bay Islands in Honduras and it runs parallel to the shoreline at a distance fluctuating between 300 feet and 120 miles.
Restaurants and nightlife
In Cancun you have such a varied choice of cuisine, with everything from downtown traditional Mexican restaurants to ultra-chic bistros. You will find something to suit all tastes and budgets and will get fantastic service with a smile wherever you go. Cancun's Hotel Zone is renowned for its nightlife, boasting some of the best nightclubs in the world playing everything from salsa to disco to R & B and live music venues. You will find something to suit all ages and tastes.
Weddings
If you and your fiancé have been looking for not only a special day, but a special setting in which to tie the knot, you will find it in Cancun. Cancun weddings of all kinds can be arranged for couples who want to get married in one of the most beautiful and tropical resort settings that the world has to offer. There are countless options to make this memorable occasion a truly once in a lifetime memory.
Shopping
Aside from the surrounding natural splendor, Cancún is known throughout Mexico for its diverse shops and festive malls catering to international tourists. Visitors from the United States may find apparel more expensive in Cancún, but the selection is much broader than at other Mexican resorts. Numerous duty-free shops offer excellent value on European goods.
Downtown Cancun
Downtown Cancun offers a captivating mixture of tradition and modernity. If you like to enjoy a real local atmosphere in a safe and friendly environment then this is the place to come! In downtown Cancun you will find hotels for all budgets- many small local restaurants offering regional and speciality cuisines and some really cool bars and live music venues. There is a wide choice of shopping venues from the Mercado 28 – a handicrafts market – to the super modern shopping mall Plaza Las Americas.
Weather
Quintana Roo has a semi-tropical climate. The hottest time of year is from mid-May until the end of August when temperatures can reach 34°C (110° F). September to the end of November is the rainy season with late afternoon downpours.
The climate changes are minimal in this area, so visitors should always pack clothes for swimming and warm weather. A light jacket, shawl or sweater is advisable for the evenings of November, December and January.
Currency
In Cancun, the US dollar is widely accepted. However, most prices are quoted in Mexican pesos. This can lead to sticker shock when you see a restaurant main course for $35.00. Usually, any price that has a decimal sign is in pesos. Pesos can also be indicated by a price like "N$35". The N stands for "new pesos".
If you see a bill with a high value, in the thousands or millions, that is "old pesos" and you have to chop three zeros from the number to get the true value. I thought someone gave me 20,000 pesos change by mistake but alas, it was only worth 20.