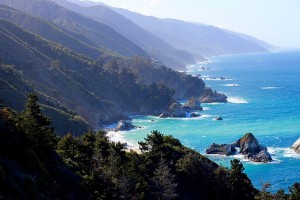 California is bordered by Oregon to the north. In the south, California shares an international border with Mexico. To the east, Nevada and Arizona share the California border. California meets the Pacific Ocean on the west.
California is the third largest state, behind Alaska and Texas, and runs almost 800 miles from north to south. It is not surprising that it offers a contrasting landscape and a diverse topography. California's general coastline is 840 miles long. Along much of the coast, the Coast Ranges rise from the shore in steep cliffs and terraces. Southern California has many wide, sandy beaches. California's topography can be characterized by defining eight main regions within the state;
California is a land a tremendous geographic diversity. It has over 1200 miles of coast line, and two of the continent's most protected bays, San Francisco and San Diego.
Beaches
California offer tourists diverse landscapes, activities, & attractions to explore along 1,000 miles of the USA's west coast. Paralleling and sometimes veering away from the Pacific Ocean are flat, sandy expanses and rocky shores. What are the best beaches in California? Our top 10 beach picks are: San Diego's Ocean Beach (OB), Encinitas, Laguna Beach (all 26 beaches!), Newport Beach, Huntington Beach, Santa Barbara, Pismo Beach, Carmel, Santa Cruz and Ocean Beach San Francisco.
Places to visit
Lake Tahoe
Lake Tahoe is one of California's most famous destinations for two main reasons: the stunningly beautiful lake and the equally beautiful mountains around it. The largest alpine lake in North America, Tahoe's cold clear waters collect the runoff from more than 600 inches of snow which dust the surrounding peaks each season-attracting skiers from around the world to try the slopes at one of eight resorts (including Heavenly, Sierra, and Northstar).
Los Angeles
Los Angeles is the second largest metropolitan area in the country, with a population of more than 16 million people. Getting a feel for such a huge area is a challenge: Hollywood legends, Malibu surfing, rush hour traffic, CalTech, graffiti and Valley Girls all compete to be part of L.A.'s identity. The key is to realize that there is no Los Angeles-except as a title for the hundreds of cities and neighborhoods that have been lumped together here on the Pacific coast.
San Diego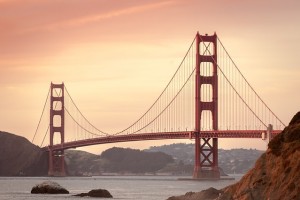 San Diego is one of the most pleasant big cities in the nation. Certainly the year-round warm weather and 70 miles of beaches contribute to the pleasantness — and possibly even to the surprisingly low crime rate here in the nation's 8th largest city. The sweeping blue Coronado Bridge is the landmark of San Diego's skyline, which curves attractively along the edge of San Diego Bay. Once known mainly as home to a large Navy base, San Diego has grown into a major center for culture and recreation in California's southwest.
San Francisco
San Francisco (area pop. 2.7 million) is one of the few North American cities to achieve the legendary status of such places as Paris or London. It is a city defined by collisions: of Mexican, Asian, and American cultures, of the cold north Pacific Ocean with the sunny California mainland, of 18th century Spanish missions with 21st century financial skyscrapers. Whether you're in sight of landmarks like Alcatraz or the Golden Gate Bridge makes no difference: San Francisco's tangible character is enough to tell you where you are.
Santa Babara
Santa Barbara (pop. 89,000) is the center of a stunning stretch of southern California coastline where the Santa Ynez mountains meet the warm Pacific Ocean. This sheltered area enjoys a warm climate year-round, which has attracted vacationers and tropical plants alike. About 90 minutes west of Los Angeles, Santa Barbara seems light-years away, with its unique blend of architecture and beautiful natural surroundings complimenting its quiet.
The city of Santa Barbara itself is known for its unique Spanish-Mediterranean buildings that characterize a pleasant downtown. The sea of red tile roofs set the city apart from many of its neighbors. Palm trees and more exotic plants line the streets of what is often called the American Riviera. The outskirts and smaller nearby communities, such as Ojai to the east, are home to artisans and wineries, producing some of the finest visual and culinary arts in the region.
Tijuana
From chocolate whips to sarongs, chilies and seashell accessories, Tijuana is a souvenir shopper's dream come true. Less than 20 miles from downtown San Diego, the city is a well-frequented point of entry for American visitors. With a not undeserved reputation for being slightly seedy, Tijuana pulses with people, bars, and markets, a cultural mix unique to towns along the border between the United States and Mexico.
Get a feel for this city on a quick sight-seeing stroll down the main strip or an afternoon at the races. For culture of the refined sort, try the Museo de las Californias in the Centro Cultural Tijuana, or enjoy a taste of regional wines on a tour of local wineries. The city has two bullrings for visitors after a little recreational violence.
Weather
With 354 days of sunshine a year, on average, the climate in California is generally warm and dry across all seasons. Summers are usually hot and humidity is low, while winters tend to be mild. The coastal communities of Los Angeles and San Diego are kept cooler in summer and warmer in winter than the inland regions by offshore breezes. Smog can often be a problem is summer when temperatures reach above 90°F (32°C). Winter temperatures can drop to about 55°F (12°C) and rain is possible. San Francisco, further north, tends to be cooler and breezier, and fog appears regularly over the harbour until about midday.